ADA Compliance Website Services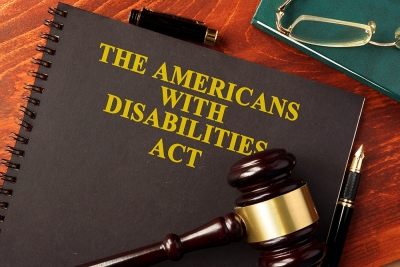 The ADA – Americans with Disabilities Act – was signed into law in 1990 by President George H.W. Bush. "The ADA is one of America's most comprehensive pieces of civil rights legislation that prohibits discrimination and guarantees that people with disabilities have the same opportunities as everyone else to participate in the mainstream of American life — to enjoy employment opportunities, to purchase goods and services, and to participate in State and local government programs and services." (source: https://www.ada.gov/ada_intro.htm)
The focus of the ADA has primarily been on physical accessibility for persons with disabilities. Examples include wheelchair ramps, designated parking, elevators, handicap bathrooms, and chair lifts for swimming pools.
Recently, however, the focus has turned to website accessibility. Although not a physical entity, a business website must also be accessible under Title III of the ADA.
"Poorly designed websites can create unnecessary barriers for people with disabilities, just as poorly designed buildings prevent some people with disabilities from entering. Access problems often occur because website designers mistakenly assume that everyone sees and accesses a webpage in the same way. This mistaken assumption can frustrate assistive technologies and their users. Accessible website design recognizes these differences and does not require people to see, hear, or use a standard mouse in order to access the information and services provided." (source: https://www.ada.gov/pcatoolkit/chap5toolkit.htm)
How This Affects Your Business
There has been a rise in lawsuits targeting small businesses with websites that are not ADA compliant. There's also confusion about what is required because no formal ADA website regulations exist. This makes it easy for lawyers to go after "low hanging fruit" and sue for damages on behalf of a person or group who claim discrimination.
If you think this only affects big business, read "Lawsuits Targeting Business Websites Over ADA Violations Are on the Rise." This article – published in LA Times in November 2018 – profiles a 10-room boutique hotel that was sued and whose owner is struggling to either fight it in court or pay the damages. Many times, fighting it is more expensive.
The hospitality industries – including hotels, lodging, campgrounds and restaurants – have been particularly targeted. If you offer online reservation services – those should be audited as well because there are specific Title III ADA regulations addressing them.
What You Should Do
It's best to be proactive and implement several key items now to make your website more compliant. This includes adding Alt tags to images, adding labels to form fields and fixing empty links. If you know how to edit your website, you may be able to accomplish these on your own. However, outsourcing the project gets it done quickly and by a website professional. The clock is ticking as more lawsuits are expected in 2019!
MorePro Marketing ADA Compliance Solutions
MorePro Marketing has a 20-year track record of improving digital marketing efforts for both large and small businesses. Plus, we have extensive experience in the hospitality and franchise space. To help our clients and other businesses begin the process of meeting ADA guidelines, we have developed three website compliance solutions – Standard, Advance and Custom.
Choose the one that best fits your needs. We'll perform the work quickly and effectively to help keep you out of the legal crosshairs. Contact Us to get started before your website is targeted!
Check Your Website for Errors
The report will open in a new browser window if pop-ups are allowed.
Start Making Your Park's Website
ADA Compliant Today!
ADA-Relief Plugin For WordPress *
Over the last year and half,  MorePro Marketing has built an ADA website accessibility strategy based on removing websites from the Serial Litigators target list. Although it doesn't explicitly mention them, the ADA has been widely interpreted to extend to websites because Title III prohibits disability-based discrimination for "places of public accommodations": private businesses that are open to the public, such as restaurants, and the hospitality industry. Because the ADA does not specifically mention websites, it also does not outline standards for how organizations can make their websites accessible. However, the DOJ has frequently cited recommendations such as the Web Content Accessibility Guidelines (WCAG) 2.0/2.1 as acceptable metrics for accessibility.
WCAG 2.0 and 2.1 includes many different criteria at three different "success levels" of accessibility, referred to as Levels (A), (AA) and (AAA).
For a list of the recommendations, please see https://webaim.org/standards/wcag/WCAG2Checklist.pdf
Our new plugin for WordPress sites fixes the most blatant errors that show under these guidelines and addresses web accessibility limitations by providing a user interface as seen at the bottom of this page..
CUSTOM PROGRAMMING PACKAGE
Site not built in WordPress OR NEEDS UPDATING? We can provide custom programming services to make your site more compliant

Visual disabilities includes blindness and other sight impairments

Physical disabilities includes limited fine motor control, muscle slowness, difficulty or inability to use hands

Hearing disabilities includes hearing impairments and deafness
* Note:
The services listed include (Level A), (Level AA) and (Level AAA) recommendations from WCAG 2.1 which we feel will cover the most basic requirements for websites to provide ADA accessible websites to their visitors based on Budgets and Time.
Campground reservations systems (as well as any other 3rd party service) being used on websites are sole and separate from the main body of the work we provide. Hosting and website accessibility as well as  outside services used on the website may restrict us from making all edits as described above.
Some websites may require additional work to provide ADA compliancy solutions to the above service packages. MorePro will notify the client before any additional work is started for approval.
** Please check to see if your State Campground/RV Park Association provides a discount for this service!
Protect Your Website and Company by Getting Your Website Compliant – Starting Today!
Please complete this form and we will get in touch with you.